Utilizing Emerging Technology-Based Strategies to Ensure Your Fleet Drivers Are Operating at Their Highest Level
TODAY'S DRIVER SAFETY CHALLENGE: The unmistakable objectives of fleet safety training are to protect the fleet of vehicles and reduce the crash rate of the drivers. However, fleet management is faced daily with competing directives which make these goals difficult to achieve. For instance, you are challenged to also increase "on the job" time while decreasing training costs which unavoidably affects the quality of the training you can provide. . . or does it?
Behind the Wheel Coaching:
Conducting an instructor-led drive along can be a good way to assess and develop certain crash avoidance skills. However, instructors cannot control what hazards will and won't happen during the drive. Nor can they control weather, pedestrians, or distractions in a "live" driving situation. So in essence, none of the situations that pose the greatest risks can be taught – unless it is during simulation.  Additionally, redundant refresher training as part of behind the wheel training provides little incremental increase in attention, knowledge or skills for those who already drive for their job.
Driving Simulator Training:
Benefits of Simulation-Based Driver Training:
Management Reports: Key metrics need "to get measured in order to get done". Simulators track employee progress and require them to demonstrate proficiency objectively.
Distracted Driving Lessons: Simulators put employees in distracted driving situations and allow them to live through the consequences. Proven behavior modification techniques will reduce the liability exposure for your company.
Engaging Training: Simulators provide a multi-sensory experience (drive, listen, speak, look, react) reinforcing learning and translating to more effective training in less time.
Training in Hazardous Situations: Simulators allow the driver to practice techniques in a variety of real world situations that would be impossible to generate in a traditional, behind-the-wheel training course such as day/night, in a wide variety of weather (fog/thunderstorms/snow) and on different road types including highways, parking lots, etc.. Additionally putting the driver into hazardous situations such as skidding/hydroplaning and overcorrection is safe only on a simulator.
Portable, Self Contained & Self Paced: Today's simulators are implemented easily with no instructor supervision needed. They are often portable so they can move around to branch/region locations to efficiently train employees with less work disruption. Better yet, simulators are now reasonably priced so organizations can purchase enough so movement is unnecessary.
Complements Other Safety Programs: Simulators convert classroom or web based 'education' into meaningful training providing teachable moments that change behavior.
"The Virtual HD simulator allows us to address driver safety in a new and exciting forum, as opposed to the traditional meeting forum, to continue to drive our safe driving focus.  Since the simulator is portable, it also allows us to save on travel expenses by bringing the simulator to employees, which helps us logistically.  The virtual lessons compliment and parallel our current Smith System driving philosophy giving us a more consistent safe driving message. – Dan Diamond, Site Supervisor PSE&G
Multiple Vehicles to "Drive": Simulators offer a wide variety of vehicles so the employee can train in a vehicle they drive for their job.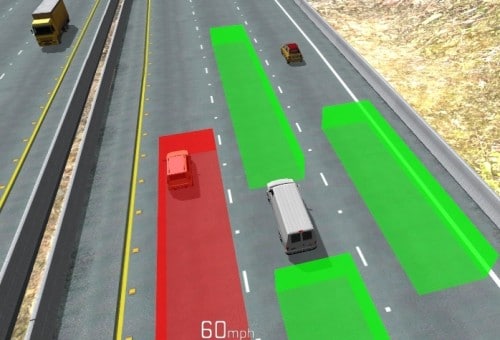 Advanced Teaching Techniques: Simulators allow situations to be replayed, be in slow motion, from aerial perspectives and x-rayed (to see objects on other side of hazards).
To summarize, by leveraging the power of emerging technology-based safety training, Operations Management can maintain a safe and risk-free fleet operation while also improving the bottom line.
by Bob Davis & Pam LeFevre, VDI
---